One of our rooms can accommodate up to 15 guests.
Cram in pleasure with your family and friends to create precise memories

How to utilize our large rooms?
|
If you are looking for…
An easy but harmonious
The villa can accommodate up to 15 guests so all members can stay in the same room!
It's wonderful!
Members of the same group can share the reasonable rate.


3

discernible features
1
Villas accommodating
large group
Our villas can accommodate up to 15 guests, and a room in our main block can accommodate up to 8 guests. There are partitions so you can divide your room into small bedrooms at night.
2

Savor the seasonal best of Yufuin


course meal
Gourmet is a big part of a trip.
Enter the world of colorful Japanese kaiseki cuisine revealing true, real flavors of stunning selections- the best farm-fresh local vegetables, delicious seafood, and A4 wagyu beef of the season. Be driven by the artisanal spirit of Japanese food.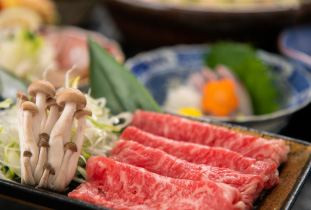 3

Soak in 100%
natural hot spring
Private hot springs are available at the villas so you can claim the soothing 100% natural hot spring as your own!
all come with a private open hot spring and an inner bath
Be pampered in our 3 unique private hot springs.Open the door with the key and claim this soothing bath your own at any time.
Or alternatively, soak in our huge public bath, also 100% natural. The temperature is well-adjusted to soothe your body and soul. Only the hot spring for ladies are open hot spring.